You come home from a long day's work on a beautiful afternoon fit for grilling out, but you open the back door to weeds and overgrown plants and cracked pavers and the sight of it is way too overwhelming to be a stress-reliever. What do you do?
Let us help you visualize a relaxing outdoor space.
Bring in several photos of your backyard from a couple angles and we can re-design a beautifully relaxing haven for your family and friends to enjoy with you. Maybe your backyard isn't cracked and overgrown, but you are just tired of the design. We can show you simple ideas that will create an entirely new dimension of relaxing paradise for you.
Do you need a walkway? Maybe adding a circular pattern of stones or pavers instead of a linear pathway is all it would take to create a whole new design. Or adding trellis or greenery to block traffic or noisy neighbors with a splash of color would spruce (pun intended) it right up.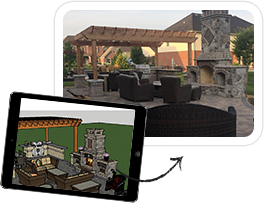 Let's talk through your ideas, and we can share our own.
With the easy phone accessory on literally almost every citizen's smart phone, it is easy to take a few pictures from different angles and bring it in for a consultation. We can talk you through your own ideas or if you want to leave it up to us for the design process, that is completely fine too.
We want to make it as easy as possible for all our customers because, in this fast-paced world, we all deserve to relax in our own comfortable haven. Or if you are tired of going to other people's parties and never hosting, we can help you with that too. Whatever it takes, we make it simple for you because you deserve it.