A beautifully designed privacy wall adds class to any home. It also protects your property from soil erosion, and delicate plants from wind damage. Learn how to choose the right materials to complement your home's style.
Does your outdoor area need sprucing up (pun intended) but the beautiful shrubs and flowers aren't offering enough privacy from traffic, barking dogs, or noisy neighbors? The Cutting Edge has just the right solution for you. Adding a privacy fence to your outdoor area not only protects your property from soil erosion but also keeps those delicate plants that bloom so spectacularly in the spring, safe from winter weather.
There are a vast array of styles, from modernly designed wooden beams to decorative lattice, to a more permanent concrete wall that offers stability year-round, that can complete your outdoor area. Whether your goal is to add class and style to your property, or if a more substantial addition is required, we have just the idea to fit your specific needs.    
Landscapers often plan a privacy fence into the scenery of a yard or other area depending on the soil and landscape surrounding the outdoor area. Here are some different styles from which to choose when deciding upon the privacy your outdoor area requires:
1. Fences
Probably the most obvious way to create privacy in your backyard, fencing is great for not only creating seclusion but also for adding an element of security and better protection for children and pets. For those who are after a more natural look, suggest adding trees, shrubs and garden beds in front of the fence to soften up the look.            


2. Pergolas
Pergolas are not only aesthetically pleasing but they are perfect for creating a feeling of intimacy. Adding vines and flowers is a beautiful way to heighten that sense of privacy. Pergolas can be completely customized to suit the level of privacy our customers are after. Additional built-in seating or hanging swings can add more privacy to the secluded area for relaxing in the outdoor space.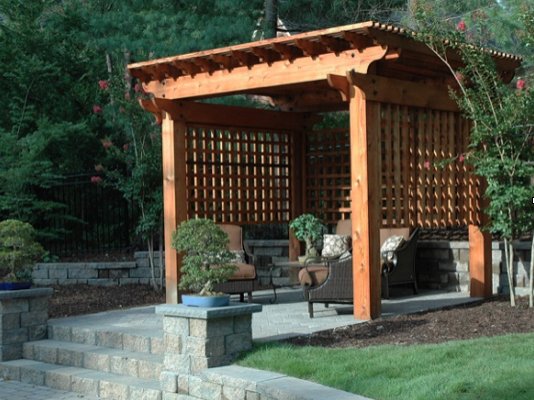 3. Trellis screens 
A trellis screen is great for sectioning off pieces of the outdoor space. If you are interested in creating a separate, more private dining area or sitting area, the trellis screen is a great option. It is also easy to move, which makes it convenient for changing the set-up and design of the outdoor space – a feature many customers will appreciate. Trellis screens also come in a variety of colors and designs making them an ideal option for adding a quick decorative statement to the landscape.     
Whatever the material your outdoor area requires, we have it handled for you. Call The Cutting Edge today to set up an appointment with one of our highly-qualified staff and have that touch of class that a privacy wall offers on your property before winter.